Brussels Sprouts w/ Bacon & Apple
Brussels Sprouts lovers will dig this recipe with added turkey bacon and sweet apple...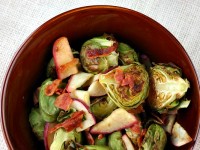 Ingredients:
3 slices turkey bacon, cut into 1/2-inch pieces
4 pints brussels sprouts, ends trimmed & halved
coarse salt & ground pepper
1 medium red apple, cored and cut into 1/4-inch slices, each slice halved crosswise
2 teaspoons red wine vinegar
Directions:
1. Preheat oven to 425°F.
2. Arrange bacon in a single layer on a large rimmed baking sheet. Bake until browned, 10 minutes. Add brussels sprouts in a single layer; sprinkle with salt and pepper. Roast until they begin to brown, about 15 minutes.
3. Remove from oven, and toss in apple. Return to oven; roast until brussels sprouts are browned and tender and apple has softened, 10 to 15 minutes.
4. Toss vegetables with vinegar, and serve immediately.
Nutritional Information per serving:
Serving size: recipe divided into 8 equal portions
Calories per serving: 49
Fat per serving: .46g
Saturated Fat per serving: .11g
Sugar per serving: 3.73g
Fiber per serving: 3.76g
Protein per serving: 3.15g
Cholesterol per serving: .78mg
Carbohydrates per serving: 10.35g
WW POINTS per serving:
Points Plus Program: 1 Old Points Program: 2