Hot Artichoke and Asiago Cheese Dip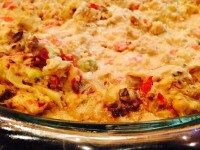 Ingredients:
1 (8 ounce) package cream cheese, at room temperature
1 cup (4 ounces) finely shredded Asiago (or Parmesan) cheese
2 cloves garlic, minced
1 (14 ounce) can artichoke hearts, drained
1 cup jarred roasted red sweet peppers, drained
1 cup sliced fresh mushrooms
1/2 cup sliced green onions
pita chips
fresh parsley leaves (optional)
Directions:
1. Preheat oven to 350°F. Spray 1 1/2-quart baking dish or 9-inch glass pie plate with nonstick spray. 2. In a food processor, combine cream cheese, Asiago cheese, and garlic. Cover and process until mixture is combined. Add artichoke hearts, 1 cup roasted peppers, mushrooms and green onion. Cover and pulse just until finely chopped (not pureed). 3. Transfer mixture to prepared pan. Spread mixture evenly in dish. 4. Bake dip about 30 to 40 minutes or until heated through and bubbly. 5. Serve the warm dip with pita chips. If desired, garnish dip with sprigs of parsley.