Sweet and Sour Meatballs
I'm pretty sure I've had this Sweet and Sour Meatballs recipe lying around since the 70's. It's still good…even after all these years.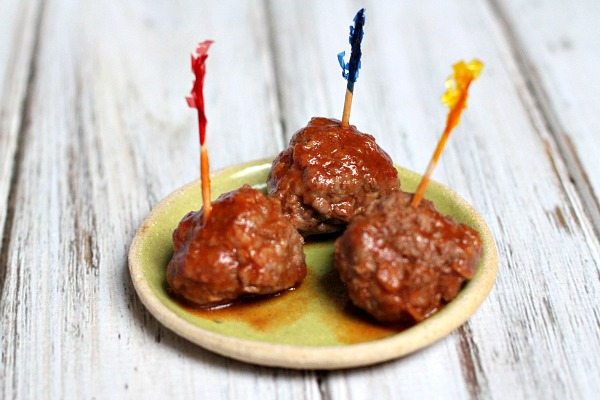 Yield: About 15 meatballs
Prep Time: 20 min
Cook Time: 35 min
Sweet & Sour Meatballs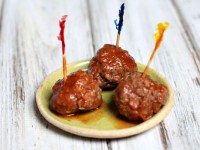 Ingredients:
1 (8 ounce) can tomato sauce
1 (8 ounce) can jellied cranberry sauce
1 Tablespoon sugar
1 pound lean ground beef
1 small onion, grated
1 teaspoon salt
1 large egg
Directions:
1. In a medium saucepan, dissolve 2 sauces over low heat. Add sugar and mix well. Bring to a boil, then reduce to simmer.
2. In medium bowl, mix beef, onion, salt and egg.
3. Roll beef mixture into small, round 1-inch balls. Drop balls into slowly simmering sauce. Continue to simmer for about 1/2 hour.
4. Transfer meatballs and sauce to small chafing dish or crockpot for serving. Provide toothpicks or a small serving spoon.
More meatball appetizer recipes you might enjoy:
Barbecue Meatballs by Sarah's Cucina Bella
Bourbon and Cider-Glazed Turkey Meatballs by I Breathe…I'm Hungry
Apple- Cheddar Sausage Meatballs with Dijon- Balsamic Glaze by RecipeGirl
Jalapeno- Cream Cheese Cocktail Meatballs by Cinnamon-Spice & Everything Nice
Spiced Apple Swedish Meatballs by A Spicy Perspective