Yield: 6 servings
Prep Time: 20 min + chill time
Cook Time: 40 min
French Custard Toast
A melt-in-your-mouth recipe for French Toast!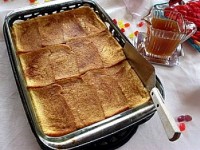 Ingredients:
Twelve 1 1/2-inch- thick slices of day-old French bread
4 large eggs
4 cups evaporated or whole milk
1/3 cup granulated white sugar
1 1/2 tablespoons grated lemon zest
1 teaspoon vanilla extract
1/2 teaspoon salt
1 tablespoon granulated white sugar
2 teaspoons ground cinnamon
Directions:
1. Evenly divide bread slices between two greased 9x13-inch glass baking dishes. Set aside.
2. In a large bowl, whisk eggs, milk, sugar, zest, vanilla and salt. Pour evenly over the bread. Let it soak for five minutes. Turn the bread slices over. Cover and chill for 12 hours (or overnight).
3. Before serving, preheat oven to 325° F. In a small bowl, mix sugar and cinnamon. Sprinkle evenly over bread.
4. Bake, uncovered, 30-45 minutes. Serve immediately with powdered sugar, fresh fruit, or syrup.