Yield: Servings: 4 (2 thighs per serving)
Prep Time: 10 min + marinating time
Cook Time: 25 min
Asian Barbecue Chicken
This recipe is not only very tasty, but easy to prepare for cooking early in the day. I cook the chicken in a saucepan and serve it over rice one night and then cut it up into a delicious stir-fry the next.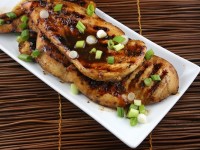 Ingredients:
1/4 cup packed brown sugar
1/4 cup low-sodium soy sauce
1 Tablespoon fresh lime juice
1/2 teaspoon crushed red pepper
1/4 teaspoon curry powder
3 cloves garlic, minced
8 (6-ounce) chicken thighs, skinned
lime wedges
chopped green onions
Directions:
1. Combine first 6 ingredients (through garlic) in a large zip baggie; add chicken. Seal and marinate in refrigerator 4 hours, turning occasionally.
2. Pre- heat grill.
3. Remove chicken from bag, reserving marinade. Place marinade in a small saucepan. Bring to a boil; cook 1 minute.
4. Place chicken on grill rack coated with cooking spray; grill 20 minutes or until done, turning and basting frequently with the marinade. Garnish with lime wedges and green onions, if desired.
Nutritional Information per serving:
Serving size: 2 thighs
Calories per serving: 297
Fat per serving: 7.7g
Saturated Fat per serving: 1.39g
Sugar per serving: 13.59g
Fiber per serving: .4g
Protein per serving: 28g
Cholesterol per serving: 161mg
Carbohydrates per serving: 16g
WW POINTS per serving:
Points Plus Program: 6 Old Points Program: 5