Yield: 8 Servings
Prep Time: 10 min + marinating time
Cook Time: 25 min
Asian- Spiced Pork Tenderloin
One of my family's favorite pork tenderloin recipes!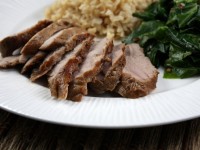 Ingredients:
1/3 cup soy sauce
1/4 cup sesame oil
1/3 cup light brown sugar
3 Tablespoons worcestershire sauce
1/4 cup fresh lemon juice
2 large garlic cloves, minced
1 Tablespoon dry mustard
1 1/2 teaspoons pepper
2 pounds pork tenderloin
Directions:
1. Mix all marinade ingredients in large zip freezer bag. Trim fat from tenderloins and add to bag. Marinate for 6-8 hours in the refrigerator (or overnight).
2. When ready to cook, preheat oven to 450 degrees F. Place tenderloins on foil-lined roasting pan. Bake about 25 minutes, or until temperature inside reaches 160 degrees.
Nutritional Information per serving:
Serving size: recipe divided into 8 equal portions
Calories per serving: 212
Fat per serving: 8g
Saturated Fat per serving: 2g
Sugar per serving: 6.94g
Fiber per serving: .23g
Protein per serving: 25g
Cholesterol per serving: 74mg
Carbohydrates per serving: 9.32g
WW POINTS per serving:
Points Plus Program: 5 Old Points Program: 5