Pork Chops and Applesauce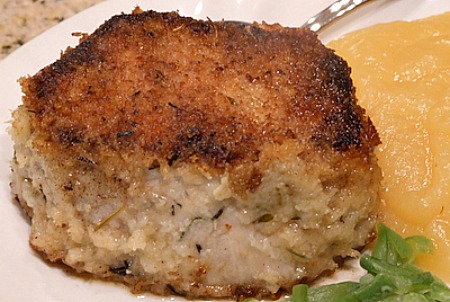 Yield: 4 servings
Prep Time: 45 min + marinating time
Cook Time: 45 min
Pork Chops and Applesauce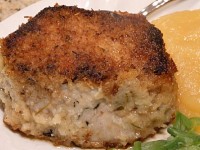 Ingredients:
FOR PORK CHOPS:
2 cups milk
3 teaspoons salt, divided
Four 1-inch-thick pork chops (with or without bone; 2 pounds total)
2 cups fresh breadcrumbs (from 6 slices firm white sandwich bread, ground in food processor)
1 tablespoon minced garlic
2 teaspoons chopped fresh rosemary or 1/2 teaspoon dried, crumbled
2 teaspoons chopped fresh thyme or 1/2 teaspoon dried, crumbled
2 to 3 tablespoons vegetable or canola oil
2 to 3 tablespoons unsalted butter
FOR APPLESAUCE:
3 pounds mixed McIntosh and Gala apples
1/4 cup water
3 tablespoons granulated white sugar
1 tablespoon cider vinegar
1 whole bay leaf
1/4 teaspoon ground allspice
Directions:
1. Marinate pork chops: Stir together milk and 2 teaspoons salt in a shallow 3 quart dish (or freezer ziploc), then add pork chops. Marinate, covered and chilled, turning once, for at least an hour and up to 4 hours.
2. Make applesauce while chops marinate: Peel, core and coarsely chop apples, then stir together with remaining applesauce ingredients in a 3-quart heavy saucepan. Bring to a simmer, stirring occasionally, then reduce heat to moderately low and cook, covered, stirring occasionally, until apples are falling apart, 15 to 20 minutes. Discard bay leaf and mash apples with a fork. Keep applesauce warm, covered.
3. Fry pork chops: Preheat oven to 200°F. Stir together bread crumbs, garlic, rosemary, thyme and remaining teaspoon of salt in a shallow bowl. Lift pork chops from milk one at a time, letting excess drip off, and dredge in bread crumbs, lightly patting crumbs to help adhere, then transfer to a tray, arranging in one layer.
4. Heat 2 tablespoons oil and 2 tablespoons butter in a 12-inch heavy skillet over moderately high heat until foam subsides, then sauté pork chops in 2 batches, without crowding, turning over once, until golden brown and just cooked through, 8 to 10 minutes per batch. Use quick read thermometer to make sure they have reached the pork-safe temperature of about 155°F. Transfer as cooked to a platter and keep warm in the oven. (Add more oil and butter to skillet as needed.)
5. Serve pork chops with applesauce.
Source: RecipeGirl.com (Adapted from Gourmet)
Leave a Comment