Yield: 12 to 15 servings
Prep Time: 30 min + soak time
Cook Time: 1 hour 15 min
Texas Chili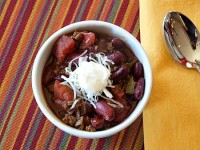 Ingredients:
1 pound dried kidney beans
3 pounds ground beef
One 28-ounce can chopped tomatoes, with juice
1 large sweet onion, chopped and browned
1 cup red wine
1 medium green bell pepper, seeded and diced
3 tablespoons chili powder
1 teaspoon cayenne pepper
2 teaspoons ground cumin seed
1/4 teaspoon oregano
1 teaspoon tabasco sauce
2 small jalapeños, seeded and finely chopped
salt and pepper to taste
2 teaspoons packed light brown sugar
1/3 cup golden raisins (optional)
Directions:
1. Soak beans in water for 24 hours. Change water after 12 hours.
2. In large sauté pan, brown the meat and onions over medium heat. Drain the fat.
3. Add spices to meat and mix well.
4. In a large pot, pour in jalapeños, tomatoes and wine. Add meat mixture. Cook over low heat for 1 hour. Stir in brown sugar. Add beans, and cook until tender. Add raisins, if desired.