Veal and Broccoli Lasagna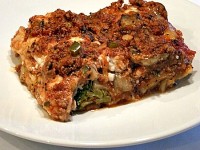 Ingredients:
1 pound ground veal
1/4 cup chopped onion
2 cloves garlic, minced
2 tablespoons extra-virgin olive oil
1/4 pound fresh mushrooms, chopped
1/2 green bell pepper, chopped
Two 6-ounce cans tomato paste
1 teaspoon dried tarragon
2 tablespoons minced fresh basil
1/4 teaspoon dried oregano
1/2 teaspoon salt
1/4 teaspoon freshly ground black pepper
3 cups water
4 sheets uncooked fresh spinach lasagne, cooked al dente and drained (or use dried if not avail.)
1 cup thinly sliced broccoli florets
1 1/2 pounds cottage cheese
1 1/2 pounds mozzarella cheese, shredded
1/2 cup freshly grated Parmesan cheese
Directions:
1. Preheat oven to 375 degrees F.
2. In a large saucepan, brown veal over medium heat and drain the fat. Remove the veal from the pan and set aside. In the same pan, sauté onion and garlic in oil until transparent. Add veal, mushrooms and green pepper. Cook for 5 minutes. Stir in tomato paste, tarragon, basil, oregano, salt, pepper and water. Simmer over low heat for 10-15 minutes.
3. Spread 1/4 cup of sauce on bottom of 9x13-inch pan. Layer the following ingredients at least twice: noodles, sauce, broccoli, cottage cheese, mozzarella and Parmesan. Top with remaining sauce.
4. Cover with greased foil and bake for 1 hour. Remove from oven and let stand for 10 minutes before serving.