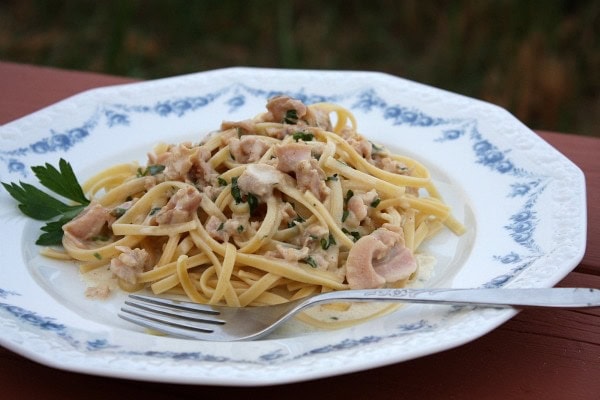 Yield: 4 servings
Prep Time: 15 min
Cook Time: 12 min
Clam Linguine
A very simple, impressive pasta recipe...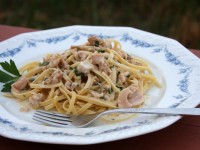 Ingredients:
1/4 cup butter
5 smashed cloves of garlic
1/4 cup chopped fresh parsley
1 cup half and half cream
1 1/2 teaspoons all-purpose flour
3 (7 ounce) cans chopped clams (use the juice of 2 1/2 cans)
lemon juice to taste
linguine noodles, cooked according to package instructions
Directions:
1. In large saucepan, melt butter. Sauté garlic in butter until softened, then use a slotted spoon to remove the garlic. Stir in parsley.
2. Carefully whisk in flour. Add half and half, clams + juice, and a couple of teaspoons of lemon juice.
3. Cook, stirring, over medium heat until hot and thickened.
4. Serve over fresh cooked linguine noodles.
Tips:
*To smash the garlic, just set the garlic cloves on a cutting board and smash with the side of a large knife. If you like more garlic flavor, mince a couple of large cloves to keep in the sauce (and then you don't have to remove anything).
*I've used fat-free half and half in this recipe with good results.
*By all means, use fresh chopped clams if you have easy access to them.
Leave a Comment