Yield: 6 servings (4 shells per serving)
Prep Time: 40 min
Cook Time: 35 min
Low Fat Stuffed Shells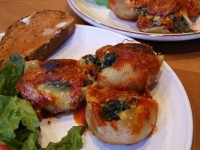 Ingredients:
24 jumbo shells (8 ounces)
1 1/2 teaspoons extra-virgin olive oil
2 cups finely chopped onions
Two 10-ounce packages frozen chopped spinach, thawed and water squeezed out
2 cups 1% cottage cheese
2/3 cup dried breadcrumbs
1/4 teaspoon freshly grated nutmeg
3/4 cup freshly grated Parmesan cheese, divided
salt and pepper to taste
1 large egg white, lightly beaten
3 cups marinara sauce, divided
Directions:
1. Preheat oven to 375 degrees F.
2. In a large pot of boiling, salted water, cook shells according to package directions. Drain and rinse shells under cold water; set aside.
3. In large sauté pan, cook onions in olive oil until they have softened (3-5 min.). Set aside.
4. In a food processor, pureé cottage cheese until smooth. Scrape cottage cheese into large bowl. Add breadcrumbs, nutmeg and 1/2 cup of Parmesan cheese. Mix thoroughly. Fold in onions and spinach, and season with salt and pepper. Stir in egg white.
5. Stuff each shell with about 2 Tablespoons of the cheese/spinach mixture.
6. Spread 1 cup of the marinara sauce in the bottom of a 9x13" baking dish. Arrange stuffed shells in a single layer on top of the sauce and spoon remaining marinara over the top. Sprinkle with remaining Parmesan.
7. Bake for 30 minutes, until cheese is golden and shells are heated through. If top is browning too quickly, tent loosely with foil. Cool 10 minutes before serving.
Nutritional Information per serving:
Serving size: 4 shells
Calories per serving: 434
Fat per serving: 9.5g
Saturated Fat per serving: 3g
Sugar per serving: 15.5g
Fiber per serving: 5.5g
Protein per serving: 26g
Cholesterol per serving: 14mg
Carbohydrates per serving: 61.5g
WW POINTS per serving:
Points Plus Program: 11 Old Points Program: 10