Garlic- Lime Shrimp
This shrimp recipe is quite unique, and very good. For a hungry family of 4, you may wish to triple the recipe.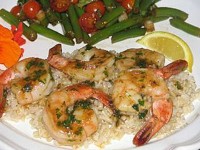 Ingredients:
1/4 cup butter
2 Tablespoons fresh lime juice
2 1/2 teaspoons worcestershire sauce
2 cloves garlic, minced
1 teaspoon granulated sugar
3/4 teaspoon grated lime peel
pinch of cayenne pepper
10 large uncooked shrimp
2 Tablespoons chopped fresh parsley
salt and pepper, to taste
Directions:
1. Melt butter in heavy medium skillet over medium heat. Mix in next 6 ingredients. Sauté 30 seconds. Add shrimp and sauté until opaque in center, turning occasionally, about 3 minutes. Stir in parsley. Season with salt and pepper, to taste.
2. Serve on its own or over rice.