Hot and Sour Soup
Just like you'd find in a Chinese food restaurant... and low fat too!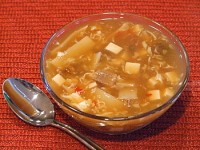 Ingredients:
6 dried wood-ear mushrooms (or any dried mushrooms)
4 cups low-sodium chicken broth
2 tablespoons reduced-sodium soy sauce
1 tablespoon chili-garlic sauce
3 tablespoons rice vinegar
1 teaspoon Asian (dark) sesame oil
1/2 pound reduced-fat soft tofu, drained and cut into 1/2-inch cubes
8 ounce can bamboo shoots, drained and thinly sliced
2 1/2 tablespoons cornstarch
3 tablespoon water
1 large egg white, lightly beaten with 1 Tablespoon water
Directions:
1. Combine dried mushrooms with enough hot water to cover by 2 inches in a small bowl; let stand 15 minutes, then drain.
2. Bring the broth, soy sauce, chili-garlic sauce, vinegar, and sesame oil to a boil in a large saucepan. Add the drained mushrooms, tofu and bamboo shoots. Reduce heat and simmer 10 minutes. Combine the cornstarch and water in a small bowl; stir in about 1/4-cup of the hot liquid, then return to the pan. Cook, stirring constantly, until the mixture boils and thickens slightly, about 1 minute. Remove from the heat; slowly drizzle the egg mixture into the soup while stirring in a circular motion. Serve immediately.
Nutritional Information per serving:
Serving size: 1 1/3 cups
Calories per serving: 115
Fat per serving: 3.25g
Saturated Fat per serving: .5g
Sugar per serving: 3.3g
Fiber per serving: 2.5g
Protein per serving: 8g
Cholesterol per serving: 0mg
Carbohydrates per serving: 19g
WW POINTS per serving:
Points Plus Program: 3 Old Points Program: 3