Yield: 10 Servings (3/4 cup per serving)
Prep Time: 20 min
Cook Time: 30 min
Caramelized Onion & Horseradish Mashed Potatoes
This recipe is gluten-free adaptable- please see notes at the end of the recipe.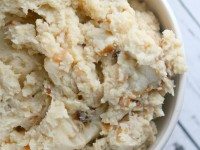 Ingredients:
1/4 cup butter, divided
4 cups chopped onion
2 teaspoons brown sugar
1 Tablespoons white balsamic vinegar (optional)
2 1/2 pounds cubed peeled baking potato
1/2 cup whole milk
1/4 cup Dijon mustard
1 Tablespoon fresh lemon juice
2 Tablespoon prepared horseradish
1 Tablespoon light mayonnaise
1/2 teaspoon salt
Directions:
1. Melt 1 Tablespoon butter in a medium nonstick skillet over medium-high heat. Add onion and sugar; saute 10 minutes or until caramelized. Remove from heat; stir in vinegar, if desired.
2. Place potato in a saucepan, and cover with water. Bring to a boil. Reduce heat; simmer 15 minutes or until tender.
3. Drain and return potato to pan. Add 3 Tablespoons butter and milk; mash to desired consistency. Cook 2 minutes or until thoroughly heated, stirring constantly.
4. Combine Dijon mustard and remaining ingredients in a small bowl, stirring with a whisk until blended. Add Dijon mustard mixture and caramelized onion mixture, stirring to combine.
Nutritional Information Per Serving of 3/4 cup
Calories 177, Calories from Fat 52, Total Fat 6g, Sat Fat 3.3g, Cholesterol 14mg, Sodium 221g, Potassium 624mg, Carbohydrates 29g, Dietary Fiber 3.75g, Sugar 5g, Net Carbs 25.25g, Protein 3.5g
WW POINTS per serving:
Points Plus Program: 5 Old Points Program: 5