Yield: 4 servings (1 chicken breast & 2 Tablespoons sauce)
Prep Time: 20 minutes
Cook Time: 25 minutes
Chicken w/ Cider & Bacon Sauce
Rice is a good choice to tuck underneath the chicken and absorb some of those sauce juices too.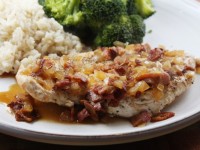 Ingredients:
4 (6-ounce) skinless, boneless chicken breast halves
1/4 teaspoon salt
1/4 teaspoon freshly ground black pepper
2 slices bacon, finely chopped
1/4 cup minced sweet onion
3/4 cup unsweetened apple cider
1/2 cup fat free, less-sodium chicken broth
Directions:
1. Place each chicken breast half between 2 sheets of heavy-duty plastic wrap (or waxed paper); pound to 1/2-inch thickness using a meat mallet or rolling pin. Sprinkle chicken evenly with salt and pepper.
2. Cook bacon in a large nonstick skillet over medium heat until crisp. Remove bacon from the pan. Add chicken to drippings in pan; cook 6 minutes on each side or until done. Remove chicken from pan and tuck it inside some foil to keep warm.
3. Add onion to pan; saute 2 minutes or until tender, stirring constantly. Add cider and broth; bring to a boil, scraping pan to loosen any browned bits. Cook until broth mixture is reduced to 1/2 cup (about 5 minutes). Stir in cooked bacon; serve sauce over chicken.
Nutritional Information- Serving Size: 1 chicken breast half & about 2 Tbsp. sauce
Calories 269, Fat 7.2g (sat 2.3g, mono 2.8g, poly 1g), Protein 41g, Carbohydrates 7g, Fiber .2g, Cholesterol 106mg, Iron 1.3mg, Sodium 412mg, Calcium 22mg
WW POINTS per serving:
Points Plus Program: 6 Old Points Program: 6