This dish is gluten-free adaptable- please see tips below the recipe…
Yield: 4 servings
Prep Time: 15 min
Cook Time: 15 min
Teriyaki Pork Tenderloin
This simple and healthy marinade turns out a very tender meat...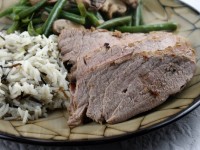 Ingredients:
1/4 cup low-sodium soy sauce
2 Tablespoons dark brown sugar, firmly packed
2 Tablespoons dry sherry
2 Tablespoons rice vinegar
2 teaspoons garlic, minced
1 teaspoon fresh ginger, finely grated
1/4 teaspoon red pepper flakes
1 1/4 pounds pork tenderloin, trimmed of all visible fat & silverskin
Directions:
1. Combine all marinade ingredients in a small bowl, stirring until sugar dissolves.
2. Put teriyaki marinade and pork in a sealable plastic zip bag. Seal the bag and marinate the pork in the refrigerator, turning once, for at least 30 minutes or up to 4 hours.
3. Preheat the broiler. Remove the pork from the marinade and discard the marinade. Place pork on roasting pan and broil until an instant-read meat thermometer inserted into the thickest part registers 155 degrees F., about 15 minutes, turning once. Let rest for 10 minutes before slicing.
Tips:
*If you're preparing this recipe as GLUTEN FREE, just be sure to use a brand of soy sauce that is designated as GF.
*I prefer to use the "remote" type of thermometer (like this one) that remains inside the meat while roasting. You can set the temperature goal at 155 and it will beep once that temperature has been reached. Easy!
Nutritional Information per serving:
Serving size: 1/4 of the tenderloin
Calories per serving: 252
Fat per serving: 8g
Saturated Fat per serving: 2.5g
Fiber per serving: 0g
Protein per serving: 31g
Cholesterol per serving: 94mg
Carbohydrates per serving: 12g
WW POINTS per serving:
Points Plus Program: 6 Old Points Program: 6
Leave a Comment