Yield: 4 servings (1 cup pasta and 3/4 cup sauce)
Prep Time: 20 minutes
Cook Time: 45 minutes
Weight Watchers Spaghetti Bolognese
I found myself thinking about dinner one day when I discovered that it was National Spaghetti Day! Since I was watching my calories, I took a look around on the internet and found this fabulous recipe for Spaghetti Bolognese.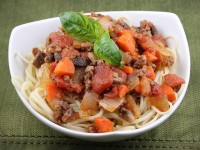 Ingredients:
3/4 pound lean ground beef (5% or less fat)
1 medium onion, finely chopped
2 medium cloves of garlic, minced
1 large carrot, chopped (no need to peel)
3 cups fresh mushrooms, chopped
One (14.5-ounce) can diced tomatoes
1 Tablespoon tomato paste
1/2 teaspoon dried basil
1/2 teaspoon dried oregano
1/4 cup fat-free skim milk
salt & pepper, to taste
1/2 pound dry whole wheat spaghetti, cooked according to package directions
fresh basil for garnish, optional
Directions:
1. Heat a large, nonstick skillet over medium-heat. Spray with nonstick cooking spray and add beef; cook, stirring frequently until browned (5 minutes or so).
2. Add onion and garlic; cook, stirring occasionally, until softened (about 5 minutes). Stir in carrot and cook about 2 minutes. Stir in mushrooms, tomatoes, tomato paste, basil and oregano; bring to a boil. Reduce heat to simmer, and continue to cook- covered- for 10 minutes. Add milk and cook- uncovered- until sauce is thickened, about 15 minutes. Add salt and pepper, to taste.
3. Divide cooked spaghetti among 4 bowls and top with the sauce. Garnish with fresh basil, if using
Nutritional Information: calories 370, fat 8.5g (sat 2.3g), cholesterol 49.1mg, sodium 575.9mg, carbohydrates 53.9g, fiber 9gm, protein 28g
WW POINTS per serving of 1 cup pasta & 3/4 cup sauce:
Points Plus Program 10 Old Weight Watchers Program 7