Toffee- Chocolate Chip Cookies with Chocolate Drizzle
This recipe has been featured in a post on The Recipe Girl blog: Chocolate- Drizzled Toffee Chocolate Chip Cookies.
Yield: 28 cookies
Prep Time: 25 min
Cook Time: 12 min
Toffee Chocolate Chip Cookies w/ Chocolate Drizzle
These are a delicious cookie in itself but the chocolate drizzle turns them into irresistible candy bar cookies!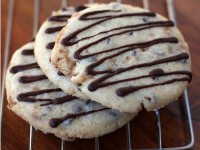 Ingredients:
3/4 cup (1 1/2 sticks) butter, at room temperature
1/2 cup powdered sugar
1/2 cup granulated white sugar
1 large egg
1 1/2 teaspoons vanilla extract
2 cups all-purpose flour
1/2 cup mini semisweet chocolate chips
1/2 cup toffee bits
additional sugar
2 ounces bittersweet chocolate, chopped
Directions:
1. In a large bowl, use an electric mixer to cream butter until pale and fluffy (1 minute). Add in sugars and beat until well combined. Add in egg and vanilla; beat until mixture looks smooth. Add flour; beat until just incorporated, scraping down sides of bowl. Stir in chocolate chips and toffee bits. Gather dough into a ball and refrigerate for an hour or so until dough is slightly firm.
2. Preheat oven to 350 degrees F. Line baking sheets with parchment paper or silpat mats.
3. Roll dough into 1-inch balls; place 2 inches apart on prepared baking sheets. Dampen the flat bottom of a glass cup and dip in sugar. Use the sugared bottom of the cup to press each ball firmly into a 2-inch round. You may need to re-dip the glass in sugar now and then to keep from sticking to the dough.
4. Bake 11 to 13 minutes. Let cookies cool.
5. In a small microwave-safe bowl, microwave the chocolate on high for 20 seconds or so, until partially melted. Stir until smooth. Scoop into a small zip baggie, zip closed and snip and very small piece off of the corner of the bag. Squeeze the bag and drizzle lines back and forth across each cookie. Let sit at room temperature until chocolate is set.
Tips:
*Cookies will keep at room temperature in an airtight container for up to one week or in the freezer for up to 6 months.
Source: RecipeGirl.com (Loosely adapted from Woman's Day
7 Responses to "Toffee- Chocolate Chip Cookies with Chocolate Drizzle"
Leave a Comment