This recipe has been featured in a post on The Recipe Girl blog: Lightened Up Slow Cooker Beef Stroganoff. If you're preparing this recipe as gluten free, please see tips at the end of the recipe..
Yield: 6 Servings
Prep Time: 20 min
Cook Time: 5 hr, 30 min
Beef Stroganoff
This lightened up version of Beef Stroganoff is super simple to make. Let your slow cooker do the work for you and dinner will be done in 6 hours!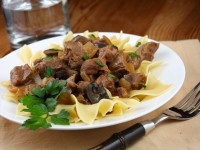 Ingredients:
1 1/2 pounds beef chuck steak, trimmed & cut into 1/2-inch cubes
1 pound sliced cremini mushrooms
2 small onions, finely chopped
2 Tablespoons tomato paste
1 cup low-sodium beef broth
1/2 cup white wine
4 Tablespoons low-sodium soy sauce, divided
1 cup reduced-fat sour cream
2 Tablespoons cornstarch
1/4 teaspoon black pepper
cooked egg noodles, whole wheat pasta or rice, for serving
chopped Italian parsley, for garnish (optional)
Directions:
1. Combine beef, mushrooms, onions, tomato paste, broth, wine and 3 Tablespoons soy sauce in the bowl of a slow cooker. Cover and cook on HIGH for 4 hours or on LOW for 6 hours, or until beef is tender.
2. In a small bowl, stir together sour cream, remaining 1 Tablespoon soy sauce, cornstarch and black pepper; whisk into the hot meat mixture and cook an additional 30 minutes or until sauce has thickened slightly. Serve over pasta or rice and garnish with parsley, if using.
Tips:
*To prepare this recipe as gluten free, be sure to use GF beef broth and soy sauce, and serve over GF pasta or rice.
Nutritional Information per serving: (meat only- count pasta or rice separately)
Serving size: 1/6th of the recipe
Calories per serving: 246
Fat per serving: 8g
Saturated Fat per serving: 3g
Fiber per serving: 1g
Protein per serving: 26g
Cholesterol per serving: 78mg
Carbohydrates per serving: 1g
WW POINTS per serving:
Points Plus Program: 6 Old Points Program: 5
7 Responses to "Beef Stroganoff"
Leave a Comment