Beef Stroganoff
This lightened up version of Beef Stroganoff is super simple to make. Let your slow cooker do the work for you and dinner will be done in 6 hours!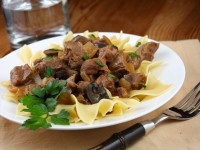 Ingredients:
1 1/2 pounds beef chuck steak, trimmed & cut into 1/2-inch cubes
1 pound sliced cremini mushrooms
2 small onions, finely chopped
2 Tablespoons tomato paste
1 cup low-sodium beef broth
1/2 cup white wine
4 Tablespoons low-sodium soy sauce, divided
1 cup reduced-fat sour cream
2 Tablespoons cornstarch
1/4 teaspoon black pepper
cooked egg noodles, whole wheat pasta or rice, for serving
chopped Italian parsley, for garnish (optional)
Directions:
1. Combine beef, mushrooms, onions, tomato paste, broth, wine and 3 Tablespoons soy sauce in the bowl of a slow cooker. Cover and cook on HIGH for 4 hours or on LOW for 6 hours, or until beef is tender.
2. In a small bowl, stir together sour cream, remaining 1 Tablespoon soy sauce, cornstarch and black pepper; whisk into the hot meat mixture and cook an additional 30 minutes or until sauce has thickened slightly. Serve over pasta or rice and garnish with parsley, if using.
Nutritional Information per serving: (meat only- count pasta or rice separately)
Serving size: 1/6th of the recipe
Calories per serving: 246
Fat per serving: 8g
Saturated Fat per serving: 3g
Fiber per serving: 1g
Protein per serving: 26g
Cholesterol per serving: 78mg
Carbohydrates per serving: 1g
WW POINTS per serving:
Points Plus Program: 6 Old Points Program: 5