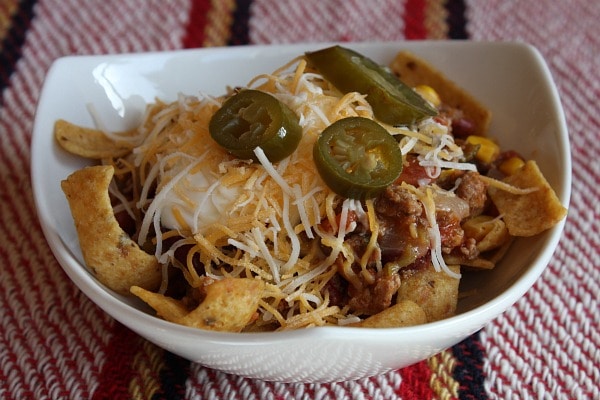 Yield: 12 to 16 Servings
Prep Time: 25 min
Cook Time: 6 hrs
Taco Soup
Comfort food at its best- and great for sports-themed parties...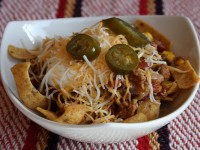 Ingredients:
1 pound ground beef
1 pound ground turkey
2 large onions, diced
2 (15.5 ounce) cans pinto beans, drained & rinsed
1 (15.5 ounce) can kidney beans
1 (15.25 ounce) can sweet white corn, drained
1 (14.5 ounce) can Mexican-style stewed tomatoes
1 (14.5 ounce) can diced tomatoes
1 (14.5 ounce) can tomatoes with chiles
2 (4.5 ounce) cans mild diced green chiles
1 (4.6 ounce) can sliced black olives, drained
1 (1.25 ounce) package taco seasoning mix
1 (1 ounce) package ranch salad dressing mix
Fritos, sour cream, grated cheese & pickled jalapeños for serving
Directions:
1. Brown the beef & turkey with the onions in a large skillet. Drain fat, then transfer cooked meat & onions to a large slow cooker (or stockpot). Add beans, corn, tomatoes, chiles, olives and seasonings; cook in slow cooker on low for 6 to 8 hours (or simmer on low heat for about 1 hour if using a pot on the stove).
2. To serve: sprinkle a few corn chips in the bottom of a bowl and ladle soup over them. Top with desired garnishes.
Tips:
*This really isn't technically a "soup." It's more like a thick chili-sort of dish and it's fabulous over the corn chips- don't leave those out!
*Consider other garnishes too: guacamole, chopped onions, lettuce, tomatoes, etc.
2 Responses to "Taco Soup"
Leave a Comment