Yield: 12 servings (serving size 1 cup of chili w/ 1/2 cup lettuce, 1/4 cup tomato, & 2 Tablespoons onion)
Prep Time: 15 min
Cook Time: 3 hrs
Kick-Off Chili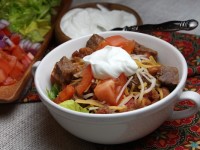 Ingredients:
2 (4-ounce) cans fire-roasted, mild green chiles
2 large onions, cut into pieces
5 cloves garlic, chopped
1 Tablespoon chili powder
1 teaspoon ground cumin
1 teaspoon dried oregano
1 teaspoon salt
2 pounds bottom round roast, trimmed and cut into 1-inch chunks
1 (28-ounce) can diced tomatoes
3 (15-ounce) cans pinto beans, rinsed & drained
2 medium red bell peppers, diced
1/2 teaspoon ground black pepper
6 cups shredded lettuce
4 medium tomatoes, diced
1 medium red onion, diced
reduced-fat sour cream & cheese, optional
Directions:
1. Preheat oven to 350 degrees F.
2. In a food processor, blend chiles, onions, garlic, chili powder, cumin, oregano and salt until pureed.
3. Mix puree, beef and canned tomatoes in large Dutch oven. Cover tightly and bake until the beef is fork-tender, 2 to 2 1/2 hours. Stir in beans, bell peppers and black pepper. Return to oven and bake until the bell peppers are tender, about 15 more minutes.
4. Serve immediately, topping with desired garnishes.
Nutritional Information per serving:
Serving size: 1 cup
Calories per serving: 265
Fat per serving: 8.7g
Saturated Fat per serving: 2.9g
Sugar per serving: 4.6g
Fiber per serving: 7.8g
Protein per serving: 22.7g
Cholesterol per serving: 54.4mg
Carbohydrates per serving: 17.6g
WW POINTS per serving:
Points Plus Program: 6 Old Points Program: 7