Blueberry- Raspberry Tart
This recipe has been featured in a post on The Recipe Girl blog: Blueberry- Raspberry Galette, but it's Really a Tart.
Yield: 8 servings
Prep Time: 30 min + chilling time
Blueberry- Raspberry Tart
Perfect dessert to make when berries are at their freshest...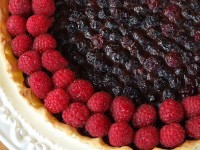 Ingredients:
CRUST:
1 cup all-purpose flour
1 1/2 Tablespoons granulated sugar
6 Tablespoons (3/4 stick) unsalted butter, cold, cut into small pieces
1/2 teaspoon salt
1 teaspoon finely grated lemon zest
1 large egg yolk
1 Tablespoon freshly squeezed lemon juice
1 Tablespoon ice water
FILLING:
3 1/2 cups fresh blueberries
1/4 cup granulated sugar
2 teaspoons ground cinnamon
4 Tablespoons (1/2 stick) unsalted butter, melted
1 Tablespoon freshly squeezed lemon juice
TOPPING:
2 cups fresh raspberries
freshly whipped cream, optional
Directions:
1. Prepare the crust: Place flour, sugar, butter, salt and lemon zest in a food processor fitted with a steel blade; process just until the mixture resembles coarse meal. Add egg yolk. With the machine running, add the lemon juice and water through the feed tube slowly and add just enough until the dough holds together and forms a ball. Add more flour if you need to- if it appears to be too sticky. Gather the dough, wrap it in plastic wrap, and refrigerate at least 2 hours.
2. Roll out dough into a 14-inch circle on a lightly floured surface. Line an 11 or 12 inch tart pan with a removable bottom with the dough; trim and crimp the edges. Freeze the shell for 30 minutes.
3. Preheat oven to 425°F.
4. Prepare filling: Toss blueberries, sugar, cinnamon, butter and lemon juice together. Spoon the filling evenly into the tart shell.
5. Bake the tart for 12 minutes. Reduce the heat to 350° F. and bake until the berries are slightly soft, about 10 minutes. Let the tart cool completely.
6. Decorate the tart with 2 circles of fresh raspberries around the edge. Cut into wedges and serve with a dollop of whipped cream, if desired.
One Response to "Blueberry- Raspberry Tart"
Leave a Comment