Mango Guacamole
The mango adds a sweetness that makes for a nice change from regular guacamole.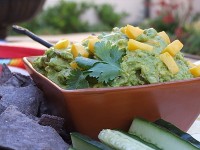 Ingredients:
3 large ripe avocados
1/2 small red onion, diced
1/2 to 1 fresh serrano chile, seeded & finely chopped
2 Tablespoons chopped fresh cilantro, plus a few extra leaves for garnish
2 Tablespoons freshly squeezed lime juice (about)
1 medium ripe mango, peeled, flesh cut from the pit & diced
salt to taste
Directions:
1. Cut avocados in half, running your knife around the pit from stem to blossom end and back up again. Twist the halves in opposite directions to free the pit, and pull the halves apart. Gently tap pit with a sharp knife, twist and remove pit. Scoop avocado flesh into a large bowl. Coarsely mash avocado with a fork.
2. Rinse chopped red onion under cold water (to get rid of some of the excess onion juices/flavor), shake off excess water, then add it to the avocado along with the chopped chile, cilantro and lime juice.
3. Mix in two-thirds of the diced mango. Taste and season with salt.
4. If not serving right away, cover with plastic wrap pressed directly on the surface of the guacamole (to prevent browning) and refrigerate- preferably for no more than a few hours.
5. When you're ready to serve, scoop guacamole into a serving bowl and garnish with the remaining diced mango and cilantro sprigs. Serve with tortilla chips, slices of cucumber and/or jicama.