Salt and Pepper Ceviche
Serves: 6 Prep Time: 20 minutes + time for marinating
Look around for some good quality fish for this recipe. You really need a nice looking piece of firm, white fish that is sashimi-grade quality. Don't go cheap on ceviche.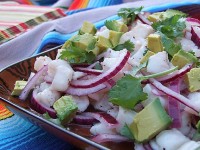 Ingredients:
1 pound sashimi- quality boneless, skinless halibut (or other large-flake or steak-y light color fish like marlin, snapper or albacore tuna)
1/2 small red onion, thinly sliced
1 teaspoon freshly ground black pepper
3/4 cup freshly squeezed lime juice
salt
1 small ripe avocado, pitted, flesh scooped out from the skin and cut into 1/2-inch cubes
2 to 3 Tablespoons (lightly packed) cilantro leaves
Directions:
1. Cut fish into 1/2-inch pieces or slightly smaller.
2. Marinate the fish: Scoop fish into glass or plastic bowl and mix in onion, black pepper and lime juice. Cover and refrigerate, stirring frequently, for 45 minutes.
3. When ready to serve, add about a teaspoon of salt to the ceviche and mix well (the saltiness of the juice will dissipate as the fish absorbs the flavors.
4. Scoop ceviche onto a smallish deep platter, then dot with avocado and cilantro leaves. Serve as an appetizer to eat with a fork, or use tortilla chips for scooping.
Tips
*It's ok to make this a few hours (2-3) ahead of serving time, but keep well-chilled.
Recipe Source: Adapted from Rick Bayless