Zucchini- Chocolate Chip Muffins
This recipe has been featured in a post on The Recipe Girl blog: Zucchini- Chocolate Chip Muffins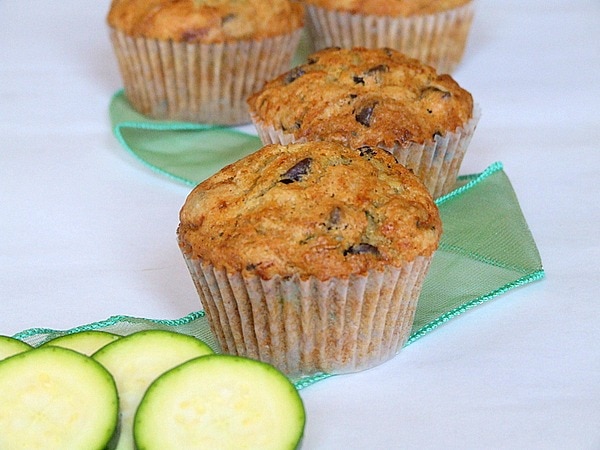 Yield: 12 muffins
Prep Time: 20 min
Cook Time: 23 min
Zucchini- Chocolate Chip Muffins
This is a great muffin to make with your summer zucchini. The chocolate chips are a great addition.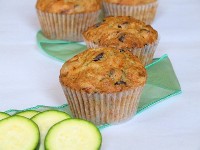 Ingredients:
1 3/4 cups all-purpose flour
3/4 teaspoon baking soda
1/2 teaspoon baking powder
1 teaspoon ground cinnamon
1/2 teaspoon salt
2 large eggs
1 cup granulated white sugar
1/2 cup canola oil
1 teaspoon vanilla extract
1 cup finely shredded zucchini
1 cup semi-sweet chocolate chips
3/4 cup coarsely chopped walnuts (optional)
Directions:
1. Position rack in middle of the oven. Preheat oven to 350°F. Line 12 muffin tin cups with paper liners. Spray the paper liners with nonstick spray.
2. In a medium bowl, whisk the flour, baking soda, baking powder, cinnamon, and salt together. Set aside.
3. In a large bowl, whisk the eggs and sugar to blend them smoothly. Whisk in the oil and vanilla until blended. Use a large spoon to stir in the flour mixture just until incorporated. Stir in the zucchini, then stir in chocolate chips and walnuts (if using) until evenly distributed.
4. Pour about 1/3 cup of the batter into each paper liner. Bake until the tops are light brown and a toothpick inserted in center of a muffin comes out clean, about 23 minutes. If the toothpick penetrates a chocolate chip, test another spot.
5. Cool muffins in pan on a wire rack for 5 minutes. Using pot holders to protect your hands, invert the muffin pan onto a wire rack and tap the bottom to release the muffins. Turn the muffins right side up to cool for about 15 minutes and serve warm, or let cool completely, about 45 minutes.
Tips:
*The muffins can be covered and stored at room temperature for up to 2 days.
*Bittersweet or milk chocolate chips can be substituted for the semisweet chips.
Source: RecipeGirl.com (Adapted from The Essential Chocolate Chip Cookbook)
3 Responses to "Zucchini- Chocolate Chip Muffins"
Leave a Comment