Blueberry Margaritas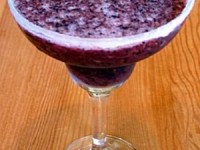 Ingredients:
3 cups ice cubes
1/3 cup good tequila
2 cups fresh blueberries (frozen are ok too)
6 ounce can frozen limeade
1/4 cup powdered sugar
1/4 cup Cointreau
fresh orange juice
granulated sugar
Directions:
1. Process all ingredients except orange juice and granulated sugar. Blend until smooth.
2. Dip rims of serving glasses in orange juice and then in sugar. Pour frozen blueberry mixture into glasses.