Cinnamon Chip Banana Bread
This is a terrific, very banana-filled, bread. The cinnamon chips add an extra sweetness and spice that make for a nice surprise.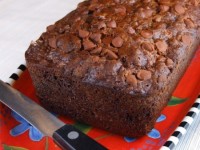 Ingredients:
1 1/2 cups ripe bananas, mashed
1/4 cup butter, melted
1/3 cup granulated white sugar
1/3 cup brown sugar, packed
1 large egg, beaten
1 teaspoon vanilla extract
1 1/2 cups all purpose flour
1 teaspoon baking soda
1/2 teaspoon ground cinnamon
1/4 teaspoon salt
3/4 cup cinnamon chips
Directions:
1. Preheat oven to 350°F. Butter 5x8-inch loaf pan.
2. Mix bananas, butter, sugars, egg and vanilla in medium bowl.
3. In a separate bowl, whisk together flour, baking soda, cinnamon, and salt. Add dry ingredients to wet and stir just until flour is incorporated. Stir in chips, reserving a few for the top
4. Pour into prepared loaf pan. Sprinkle reserved chips on top of the batter. Bake 50 to 60 minutes, or until toothpick inserted in the center comes out clean.
5. Let cool in pan for 15 minutes, then turn out loaf onto rack to cool completely.