Grilled Chicken and Spinach Salad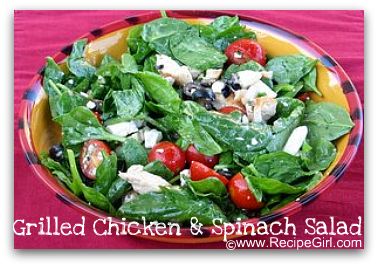 GRILLED CHICKEN & SPINACH SALAD
www.RecipeGirl.com
DRESSING:
½ cup olive oil
½ cup red wine vinegar
3 oz chopped onions
1 tsp chopped parsley
1 tsp chopped garlic
½ tsp fresh lemon thyme
½ oz fresh chopped basil
salt and pepper to taste
SALAD:
1 lb grilled chicken breast, sliced
2 bunches spinach, cleaned and stemmed
2 oz sliced olives
24 cherry tomatoes, halved
¼ lb crumbled feta cheese
1. Mix dressing ingredients in jar or bottle, and refrigerate for 24 hours.
2. Place salad ingredients in large bowl and toss with desired amount of dressing.
Servings: 4
Cooking Tips
*Serve with some great, crusty French bread.
PRINT THIS RECIPE using your browser's 'print' function. It's automatically formatted to print recipe & picture only.
RATE THIS RECIPE[ratings]
"Just a great salad."
-Oxnard, CA
Leave a Comment