Chicken- Almond Salad Sandwiches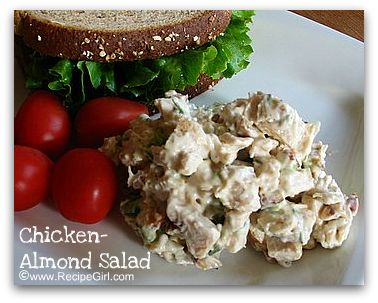 CHICKEN- ALMOND SALAD SANDWICHES
www.RecipeGirl.com
3 cups roasted chicken breasts, chopped and chilled
1/3 cup chopped green onions
¼ cup chopped smoked almonds
¼ cup plain yogurt
¼ cup mayonnaise
1 tsp chopped fresh rosemary
1 tsp dijon mustard
1/8 tsp salt
1/8 tsp fresh ground black pepper
10 slices whole grain bread
5 lettuce leaves
1. In large bowl, combine all ingredients except bread and lettuce. Stir well and chill for about an hour.
2. Divide chicken mixture between 5 bread slices. Top with lettuce leaves and remaining bread.
3. Cut sandwiches on the diagonal and serve.
Servings: 5
Cooking Tips
*To lighten up this recipe, use fat free yogurt and light mayonnaise.
PRINT THIS RECIPE using your browser's 'print' function. It's automatically formatted to print recipe & picture only.
RATE THIS RECIPE[ratings]
Leave a Comment