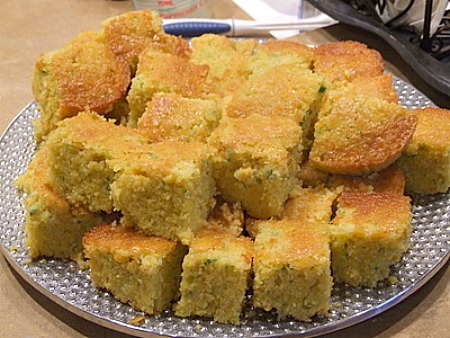 Yield: 12 servings
Prep Time: 15 min
Cook Time: 1 hr
Green Chile Cornbread
This is a super moist and very flavorful cornbread. Perfect for serving with chili!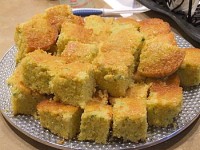 Ingredients:
1 cup salted butter, at room temperature
3/4 cup granulated white sugar
4 large eggs
1/2 cup canned mild green chiles, diced
1 1/2 cups cream- style corn
1/2 cup cheddar cheese, shredded
1 cup all-purpose flour
1 cup yellow cornmeal
2 tablespoons baking powder
1 teaspoon salt
Directions:
1. Preheat oven to 325°F. Butter a 9-inch square pan.
2. Use an electric mixer to cream together the butter and sugar in a large bowl. Beat in eggs slowly, one at a time. Add remaining ingredients and mix well to incorporate.
3. Pour into prepared pan. Bake for approximately 1 hour, or until toothpick inserted in center comes out clean.
Source: RecipeGirl.com (Adapted from Barefoot Contessa)
One Response to "Green Chile Cornbread"
Leave a Comment