Mom's Banana Nut Bread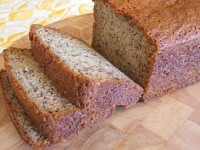 Ingredients:
2 medium ripe bananas, mashed
2 large eggs
1 teaspoon vanilla extract
1 1/2 cups granulated white sugar
1/4 cup buttermilk (plus an additional Tablespoon)
1/2 cup vegetable or canola oil
1 3/4 cups all-purpose flour
1 teaspoon baking soda
1 cup chopped walnuts (optional)
Directions:
1. Preheat oven to 325 degrees. Grease and flour one 9x5-inch loaf pan.
2. Combine first 6 ingredients in a large bowl and whisk together well. In a separate bowl, combine flour, baking soda and nuts. Stir into wet mixture and pour into prepared pan.
3. Bake 1 hour and 15 minutes, or until golden brown and toothpick inserted into the center comes out clean.