Yield: 12 regular-sized muffins
Prep Time: 15 min
Cook Time: 25 min
Banana- Chocolate Chip Muffins
I like to bake these up in mini muffin cups to utilize for after-school snacks...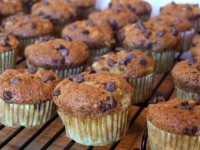 Ingredients:
3 medium very-ripe bananas
1 large egg
1/3 cup low fat buttermilk or nonfat milk
1/2 cup granulated sugar
1/2 cup brown sugar
1 1/2 cups all-purpose flour
1 teaspoon baking soda
1 teaspoon salt
2 Tablespoons mini chocolate chips
Directions:
1. Preheat oven to 350°F. Lightly coat regular-sized muffin tin with cooking spray.
2. In a large bowl, mash bananas with fork. Whisk in egg, milk, and sugars.
3. In a separate bowl, whisk together flour, baking soda and salt. Slowly add to wet mixture and mix until combined. Stir in chocolate chips.
4. Spoon equal amounts of batter into 12 muffin cups. Bake 25 to 30 minutes, or until toothpick inserted in center comes out clean. Cool 10 minutes in pan, then remove to a wire rack to cool completely.
Nutritional Information per serving:
Serving size: 1 muffin
Calories per serving: 167
Fat per serving: 1.25g
Saturated Fat per serving: .53g
Sugar per serving: 21.15g
Fiber per serving: 1.29g
Protein per serving: 2.76g
Cholesterol per serving: 17.9mg
Carbohydrates per serving: 37.38g
WW POINTS per serving:
Points Plus Program: 5 Old Points Program: 3