Grilled New England Seafood "Bake"
This recipe has been featured in a post on The Recipe Girl blog: New England Seafood Recipe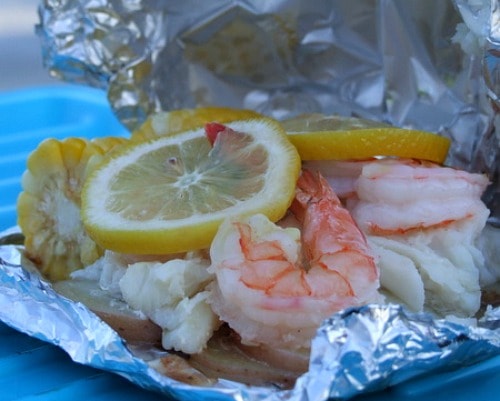 Yield: 4 servings
Prep Time: 25 min
Cook Time: 12 min
Grilled New England Seafood "Bake"
Love this recipe in the summertime... my favorite thing to make on the grill!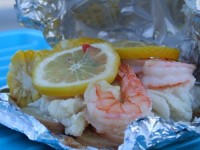 Ingredients:
2 Tablespoons butter, at room temperature
2 Tablespoons finely chopped fresh dill, plus more for garnish (if desired)
1 small clove of garlic, minced
kosher salt and freshly ground black pepper
8 ounces red potatoes, scrubbed and thinly sliced
1 pound skinless cod fillet, cut into four equal pieces
16 large shrimp, peeled and de-veined
2 ears corn, quartered
1 medium lemon, thinly sliced
Directions:
1. Heat grill to medium.
2. In a small bowl, combine butter, dill, and garlic; season with salt and pepper & set aside.
3. Fold four 14-inch squares of heavy-duty aluminum foil in half, forming 4 rectangles. On one half of each of the four rectangles, arrange potatoes in a single layer, then top with cod, then shrimp. Place 2 pieces of the corn on the side. Season with salt and pepper. Add a dollop of the butter mixture and two lemon slices. Fold foil over ingredients, and crimp edges tightly to seal.
4. Place packets on grill, with potato layer on bottom. Cook, rotating (but not flipping) packets occasionally, until fish is just cooked through and potatoes are tender, 12 to 14 minutes.
5. Carefully remove from grill. Slit packets open and transfer contents of each packet to a plate. Garnish with dill sprigs.
Tips:
*Serve with some good bread to soak up all of the juices.
Nutritional Information per serving:
Serving size: 1 packet
Calories per serving: 254
Fat per serving: 7.5g
Saturated Fat per serving: 3.9g
Sugar per serving: 1.5g
Fiber per serving: 2.14g
Protein per serving: 28g
Cholesterol per serving: 93.7mg
Carbohydrates per serving: 19.25g
WW POINTS per serving:
Points Plus Program: 6 Old Points Program: 6
5 Responses to "Grilled New England Seafood "Bake""
Leave a Comment