Best Sugar Cookies
I'm a sugar-cookie-fanatic, and these are the best!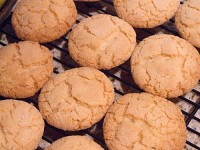 Ingredients:
4 cups all-purpose flour
1 cup granulated white sugar
1 cup powdered sugar
1 cup unsalted butter, at room temperature
3/4 cup vegetable oil
1 teaspoon baking soda
1 teaspoon cream of tartar
1 teaspoon salt
1 teaspoon vanilla extract
additional sugar, for rolling
Directions:
1. Preheat oven to 350°F.
2. Combine the flour, sugars, butter, oil, baking soda, cream of tartar, salt and vanilla in a mixing bowl in the order listed, mixing well after each addition. Shape the dough into 1-inch balls and coat with additional granulated sugar.
3. Arrange the balls 2 inches apart on a baking sheet and flatten slightly with a glass dipped in sugar. Bake for 15 minutes or until light brown. Cool on the cookie sheet for 2 minutes. Remove to a wire rack to cool completely. Store in an airtight container.