Butter Dream Cookies
This recipe has been a RecipeGirl family favorite for over 40 years. We like to bake them at Christmas and press red and green maraschino cherries in the middle for decoration.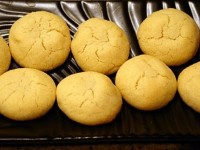 Ingredients:
1/2 cup butter
1/2 cup shortening
1/2 cup granulated white sugar
1 teaspoon almond extract
2 1/4 cups all-purpose flour
red and/or green maraschino cherries, optional
Directions:
1. In a large bowl, use electric mixer to cream butter, shortening, and sugar well. Blend in flavoring and flour. Shape into balls and set on cookie sheet 2 inches apart. If using cherries, press 1/2 of a maraschino cherry in the center of each cookie.
2. Bake at 350 degrees for 8-10 minutes.