Low Fat Oatmeal- Chocolate Chip Cookies
I was really happy to come up with a low fat cookie recipe that I could feel good about eating when I'm watching my weight. Not overly sweet, this cookie has a little bit of a soft granola bar consistency.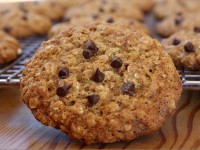 Ingredients:
1 cup all-purpose flour
1 teaspoon baking powder
1/2 teaspoon baking soda
1/2 teaspoon salt
1/4 teaspoon allspice
2 Tablespoons butter, melted
1/4 cup unsweetened applesauce
1/2 cup granulated white sugar
1/2 cup light brown sugar, packed
1 large egg
1 teaspoon vanilla extract
1 2/3 cups oats
2 Tablespoons mini chocolate chips
Directions:
1. Preheat oven to 375 degrees F. Slightly spray cookie sheet with nonstick spray, or line with parchment paper or silpat mat.
2. In a large bowl, whisk flour, baking powder, baking soda, salt and allspice.
3. In a separate bowl, whisk together melted butter, applesauce, sugars, egg and vanilla until well blended. Add flour mixture to applesauce mixture. Mix well. Fold in oats. At this point, you can decide if you'd like to mix in the chocolate chips or save them to sprinkle on op of each scoop of cookie dough.
4. Drop rounded Tablespoonfuls onto cookie sheet 2 inches apart. You should end up with about 22 cookies. Bake 8 to 10 minutes, or until set. Remove from oven and cool on cookie sheet for 5 minutes; remove to wire rack to cool completely.
Nutritional Information per serving:
Serving size: 1 cookie
Calories per serving: 101
Fat per serving: 2.1g
Saturated Fat per serving: 1.1g
Fiber per serving: 1.5g
Protein per serving: 1.6g
Cholesterol per serving: 11.2mg
Carbohydrates per serving: 24.6g
WW POINTS per serving:
Points Plus Program: 3 Old Points Program: 2