This recipe has been featured in a step-by-step "how-to" post on The Recipe Girl blog: How to Make Easter Bunny Cupcakes.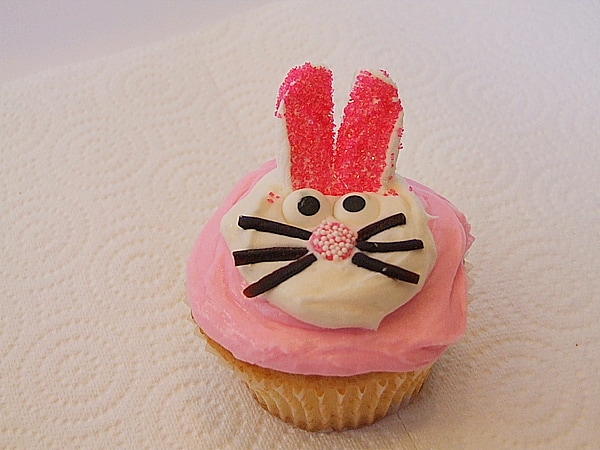 Bunny Cupcakes

Yield: 24 cupcakes

Prep Time: 40 min

Cook Time: 25 min

If you have little ones, you must make these for Easter!

Ingredients:

CUPCAKES:
1 (18.25 ounce) package white cake mix with pudding
1 1/4 cups buttermilk
1/4 cup butter, melted
2 large eggs
2 teaspoons vanilla extract
1/2 teaspoon almond extract

VANILLA BUTTERCREAM FROSTING:
1/2 cup butter, softened
3 ounces cream cheese, softened
1 pound powdered sugar
1/4 cup milk
1 teaspoon vanilla extract

DECOR:
pink food coloring
5 large marshmallows
pink sugar
candy decorations and sprinkles or skinny black licorice, as desired

Directions:

1. Prepare cupcakes: Preheat oven to 350°F. Line two 12-cup cupcake tins with cupcake liners.

2. Beat all ingredients at low speed with an electric mixer just until dry ingredients are moistened. Increase speed to medium, and beat 2 minutes or until batter is smooth, stopping to scrape bowl as needed.

3. Coat paper muffin cups with cooking spray; spoon batter evenly into baking cups, filling each two-thirds full.

4. Bake for 25 minutes or until a wooden pick inserted in center comes out clean. Cool in pans on wire racks 10 minutes; remove cupcakes from pans to wire racks, and cool 1 hour or until completely cool.

5. Prepare frosting: Beat butter and cream cheese at medium speed with an electric mixer until creamy. Gradually add powdered sugar, beating at low speed until blended. Increase speed to medium, and slowly add milk and vanilla, beating until smooth. Split the frosting into two bowls. Stir a few drops pink food color into 1 bowl of frosting. Frost cupcakes with pink frosting.

6. Spoon 1 heaping teaspoonful of white frosting on the center of each cupcake. To make ears, cut each large marshmallow crosswise into 5 pieces with kitchen scissors. Using scissors, cut through center of each marshmallow piece to within 1/4-inch of edge. Separate to look like bunny ears; press 1 side of cut edges into pink sugar, flattening slightly. Arrange on each of the white frosting mounds as shown. Use candy decorations and sprinkles/licorice pieces to make eyes, nose and whiskers.

7. Store loosely covered.

Tips:

*If you have only one 12-cup muffin pan, cover and refrigerate the rest of the batter while baking the first batch. Then bake the rest of the batter in the cooled muffin pan, adding 1 or 2 minutes to the bake time.
*You can certainly use any white cupcake recipe that you wish for this.
*To save time, use tubs of white icing and just color those.