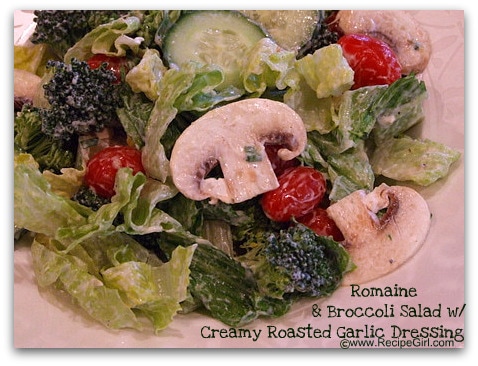 CREAMY ROASTED GARLIC DRESSING
www.RecipeGirl.com
2 whole heads of garlic, unpeeled
olive oil
1 cup mayonnaise
1/2 cup buttermilk
2 1/2 Tbs minced fresh chives
1 Tbs fresh lemon juice
1 1/4 tsp celery salt
1/4 tsp freshly ground black pepper
1. Roast the garlic: Preheat oven to 325°F. Slice top 1/2 inch from each head of garlic. Place each, cut side up, on large square of foil. Sprinkle with salt and pepper; drizzle with oil. Enclose each in foil. Roast packets directly on oven rack until garlic is tender, about 1 hour 10 minutes. Carefully open foil; cool.
2. Prepare the dressing: Squeeze roasted garlic into a medium bowl; mash. Whisk in remaining dressing ingredients.
PRINT THIS RECIPE using your browser's 'print' function. It's automatically formatted to print recipe & picture only.
RATE THIS RECIPE[ratings]