Apricot- Balsamic Chicken
You may very well have all ingredients on hand already to make this chicken recipe. The first time I made this, my husband actually said it was the best chicken I'd ever made!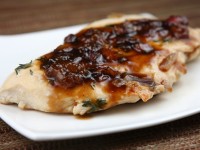 Ingredients:
1 teaspooon vegetable oil
1/2 cup red onion, chopped
1 1/2 teaspoons fresh thyme, minced
1/2 teaspoon salt, divided
1 pound chicken breasts, skinless & boneless
1/3 cup apricot jam
2 Tablespoons balsamic vinegar
1/4 teaspoon black pepper, freshly ground
Directions:
1. Heat oil in large nonstick skillet over medium-high heat until hot. Add onion; sauté 5 minutes.
2. Sprinkle thyme and 1/4 teaspoon salt over chicken. Add chicken to pan; sauté 6 minutes on each side or until done. Remove chicken from pan; keep warm.
3. Reduce heat to medium. Add 1/4 teaspoon salt, preserves, vinegar, and pepper to pan, stirring constantly until preserves melt. Spoon sauce over chicken and serve immediately.
Nutritional Information per serving:
Serving size: 4 ounces chicken breast w/ 1 1/2 Tablespoons sauce
Calories per serving: 344
Fat per serving: 4g
Saturated Fat per serving: .88g
Sugar per serving: 17g
Fiber per serving: .63g
Protein per serving: 55g
Cholesterol per serving: 137mg
Carbohydrates per serving: 19.5g
WW POINTS per serving:
Points Plus Program: 8 Old Points Program: 7.5