Salmon with Mustard and Brown Sugar Glaze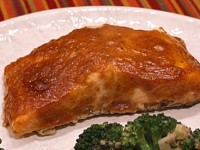 Ingredients:
3/4 cup dry white wine
1/4 cup (1/2 stick) salted butter, diced
1 1/2 teaspoons Old Bay seasoning
One 2-pound center-cut skinless salmon fillet
1/3 cup spicy brown mustard (such as Gulden's)
1/4 cup (packed) golden brown sugar
Directions:
1. Preheat oven to 350°F.
2. Boil wine, butter and Old Bay seasoning in small saucepan for 3 minutes. Sprinkle salmon on both sides with salt and pepper. Place on rimmed baking sheet; pour wine mixture over. Bake until salmon is just opaque in center, about 14 minutes. Remove from oven.
3. Preheat broiler. Mix mustard and sugar in small bowl to blend; spread over salmon to cover. Broil salmon until topping is brown and bubbling, about 3 minutes. Transfer salmon to platter and serve.
Nutritional Information per serving:
Serving size: 1 salmon fillet
Calories per serving: 309
Fat per serving: 14.75g
Saturated Fat per serving: 6.25g
Sugar per serving: 8.82g
Fiber per serving: .35g
Protein per serving: 28g
Cholesterol per serving: 55mg
Carbohydrates per serving: 10g
WW POINTS per serving:
Points Plus Program: 7 Old Points Program: 7.5