Clam Chowder
This is our family's special recipe for clam chowder. We've eaten and enjoyed it for many years now.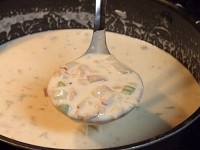 Ingredients:
SOUP:
1 cup onion, diced
1 cup celery, diced
2 cups red potatoes, skin-on & diced
2 (6.5 ounce) cans clams, juice reserved
1 teaspoon salt
WHITE SAUCE:
1/2 cup unsalted butter
1/2 cup all-purpose flour
2 cups whole milk
2 cups nonfat milk
1/2 teaspoon salt
Directions:
1. Place onion, celery and potatoes in a large saucepan. Pour clam juice over veggies (don't add the clams yet); add enough water just to cover the vegetables, sprinkle on salt, and simmer until tender.
2. Make white sauce when veggies are done simmering. In another large saucepan, melt butter; add flour, mixing well with a wire whisk. Add milks and whip until thick. Add clams, simmered vegetables and salt, as desired. Heat through.
3. Serve in soup bowls with a chunk of crusty sourdough bread.