Autumn Apple & Spinach Salad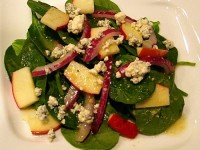 Ingredients:
2 Tablespoons fresh orange juice
2 Tablespoons fresh lime juice
2 teaspoons Dijon mustard
2 teaspoons honey
1/4 teaspoon salt
1/8 teaspoon freshly ground black pepper
1/2 cup thinly vertically sliced red onion
8 cups bagged pre-washed baby spinach (about 8 ounces)
1 large firm, sweet-tart apple, cored & thinly sliced
1/4 cup crumbled blue cheese (about 1 ounce)
Directions:
1. Combine juices and spices and stir well with a whisk.
2. Combine onion, spinach and apple in a large bowl. Drizzle with dressing; toss gently to coat. Sprinkle with cheese.
Nutritional Information per serving:
Serving size: 1/6th of the salad
Calories per serving: 60
Fat per serving: 1.5g
Saturated Fat per serving: 1g
Sugar per serving: 6g
Fiber per serving: 2g
Protein per serving: 2.5g
Cholesterol per serving: 3.5mg
Carbohydrates per serving: 10.5g
WW POINTS per serving:
Points Plus Program: 2 Old Points Program: 1.5