Autumn Salad
This is surprisingly simple to make, and I love the sweet-tasting dressing. I've use toasted cashews instead of pecans for equally great results.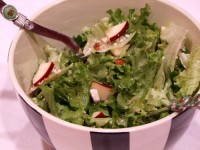 Ingredients:
1 bunch red leaf lettuce, chopped
1 bunch green leaf lettuce, chopped
2 red delicious apples- skin on
3/4 cup blue cheese, crumbled
3/4 cup toasted, chopped pecans
DRESSING:
1/4 cup vegetable oil
1/4 cup apple cider vinegar
2 Tablespoons shallots, minced
2 Tablespoons fresh lemon juice
1 Tablespoon maple syrup
1/4 teaspoon salt
1/4 teaspoon ground pepper
Directions:
1. Put dressing ingredients into shaker and refrigerate.
2. Place lettuce into 8 salad bowls. Cut apples into thin wedges and place on lettuce. Sprinkle pecans and blue cheese evenly over salad.
3. Drizzle chilled dressing over salads.
Nutritional Information per serving:
Serving size: 1/8th of the salad
Calories per serving: 201
Fat per serving: 17g
Saturated Fat per serving: 3g
Sugar per serving: 5.5g
Fiber per serving: 2g
Protein per serving: 3.75g
Cholesterol per serving: 8mg
Carbohydrates per serving: 10g
WW POINTS per serving:
Points Plus Program: 6 Old Points Program: 6