Easy Chicken Santa Fe
It's a little embarrassing how easy this is. And your family will think you've gone all out for them. Delicious!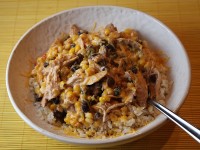 Ingredients:
1 (15 ounce) can black beans, rinsed & drained
1 small bag frozen sweet corn (or 2 cans, rinsed & drained)
1 cup bottled chunky salsa
6 skinless chicken thighs (or 6 skinless chicken breasts- see tips below)
1 (8 ounce) package cream cheese (low fat is fine), cut into chunks
1 cup shredded cheddar
Directions:
1. In a slow cooker, mix beans, corn and 1/2 cup salsa. Top with chicken and pour remaining salsa over the chicken. Cover and cook on HIGH for 3 hours, or until chicken is tender and cooked throughout.
2. Remove chicken to a cutting board and cut into bite-sized pieces. Return chicken to slow cooker along with cream cheese. Stir and let cream cheese melt into the mixture to create a creamy sauce.
3. For serving: You can serve the chicken & sauce over rice with a sprinkle of cheddar cheese on top. Or you can serve these as tacos with cheese and a couple of taco fixings such as lettuce and tomato.
Source: RecipeGirl.com (Adapted from "LindRusso" on CLBB)