Taste testers in my house were in heaven this year as I baked up 25 brand-new cookie and candy recipes for the holidays. Many of those were given away to friends, but we managed to consume our fair share. I'm happy to report that they are now officially *gone* and we're ready for de-tox! Everyone once in a while I do a bit of a low-carb thing to kick-off weight loss. Luckily, my husband goes along with it. As long as I'm still cooking up dinner that doesn't seem like a starter dish (ie. salad for dinner), he's happy. I found a great recipe to kick off the first day of the New Year…
Spaghetti Squash with Spicy Meat Sauce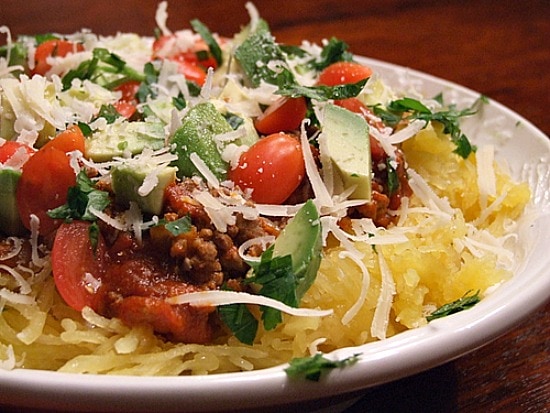 I'm not terribly experienced with spaghetti squash. My vegetarian roommate in college was obsessed with the stuff, but I turned my nose up. I do know that you need to cook the stuff a pretty darn long time to get a nice tender squash. Mine was in the oven for about 75 minutes. The spaghetti squash should easily come out of its shell and flake apart into strands. In this recipe, you brown some butter and mix it in with the squash strands, then top it with the meat sauce that has simmered for an hour. I suggest getting the squash into the oven before you start the meat sauce. Hints of cinnamon and a surprise topping of avocado really made this dish unique. My husband enjoyed it, and I loved it. Since the squash took longer than I had expected, I didn't get to try it out on my 6 year old, but he'll be tasting some tonight. I'm hoping to pass it off as spaghetti!
This recipe can be found here:  Spaghetti Squash with Spicy Meat Sauce
This recipe was discovered in this seasonal cookbook that I picked up from William's Sonoma last fall: A Harvest of Pumpkins and Squash.  I was actually on the hunt for a cookbook that would look pretty in my countertop cookbook holder. Fortunately, this actually looks to be a really fabulous cookbook with some unique recipes. Chapters are divided into Breads/Breakfast, Soups/Salads/Sides, Entrees and Desserts. Other recipes that look intriguing to me are the Rosemary-Polenta Pumpkin Muffins, Tortellini with Butternut Squash, Artichoke Hearts and Pecorino, and the Five Spice Pumpkin-Ginger Cake (there are chocolate chips in that one!) I'll be tucking these recipes away for a day when carbs and sweets are allowed again!