Pumpkin- Gingerbread Muffins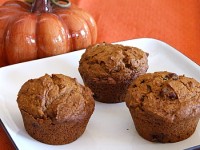 Ingredients:
3/4 cup firmly packed brown sugar
1/2 cup salted butter, softened
1/4 cup molasses
1 large egg, beaten
1 cup canned unsweetened pumpkin puree
1 3/4 cups all-purpose flour
1 teaspoon baking soda
1/4 teaspoon salt
1/2 cup dried cranberries or raisins, optional
Directions:
1. Preheat oven to 350°F.
2. In a large bowl, combine sugar, butter and molasses; beat well with an electric mixer. Add egg and pumpkin, beating until smooth.
3. In a separate bowl, whisk together flour, baking soda and salt. Add to pumpkin mixture, stirring just until moistened (the batter will be thick and lumpy).
4. Fill lightly greased muffin cups half full. Bake 20 minutes, or until toothpick inserted in center comes out clean.