Whole Wheat Banana- Blueberry Muffins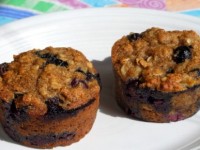 Ingredients:
2 1/2 cups whole wheat flour
1 1/2 cups rolled oats
2 teaspoons baking soda
1/8 teaspoon salt
1/4 teaspoon ground mace or nutmeg
1 cup honey
1 cup canola oil
6 medium mashed ripe bananas
1 Tablespoon pure vanilla extract
2 cups fresh blueberries
Directions:
1. Preheat oven to 350 degrees F. Spray muffin tin with nonstick spray.
2. Whisk together dry ingredients in a large bowl.
3. In a separate bowl, whisk together honey, oil, bananas and vanilla.
4. Stir wet ingredients into the dry ingredients mixing only until ingredients are combined. A good muffin batter should be lumpy.
5. Gently fold the blueberries into the batter. Fill each muffin cup at least 3/4 full. These muffins do not rise very much.
6. Bake for about 30 to 40 minutes. Test with a knife. The point should come out clean when the muffins are ready.
Source: RecipeGirl.com (via The Black Dog Summer on the Vineyard Cookbook)