Blueberry- Oatmeal Muffins
This recipe has been featured in a post on The Recipe Girl blog: Summer Muffin Recipes.
Yield: 16 Muffins
Prep Time: 15 min
Cook Time: 20 min
Blueberry- Oatmeal Muffins
In the summertime... when the blueberries are plentiful and CHEAP, it's the best time to whip up blueberry cakes, breads and muffins. These are a delicious, low fat variety.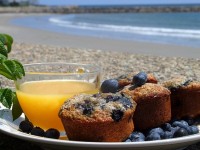 Ingredients:
1 2/3 cups quick-cooking oats
2/3 cup all-purpose flour
1/2 cup whole wheat flour (or white whole wheat flour)
3/4 cup (packed) light brown sugar
2 teaspoons ground cinnamon
1 teaspoon baking powder
1 teaspoon baking soda
3/4 teaspoon salt
1 1/2 cups low fat buttermilk
1/4 cup canola or vegetable oil
2 teaspoons grated lemon rind
2 large eggs
2 cups fresh blueberries tossed with 2 Tablespoons all-purpose flour
2 Tablespoons granulated white sugar (or chunky, white sparkling sugar)
Directions:
1. Preheat oven to 400 degrees F. Spray 16 muffin cups with nonstick spray.
2. Place oats in food processor; pulse until oats resemble coarse-meal. Place in a large bowl. Add flours, brown sugar, cinnamon, baking powder, baking soda and salt. Whisk together.
3. In a separate bowl, stir together buttermilk, oil, lemon rind, and eggs. Add to flour mixture; stir just until dry ingredients are incorporated and moist. Gently fold floured blueberries into the batter.
4. Spoon batter into the muffin cups, dividing it evenly between 16. Sprinkle with sugar.
5. Bake 18 to 22 minutes, or until toothpick inserted into a muffin comes out clean.
Nutritional Information per serving:
Serving size: 1 muffin
Calories per serving: 170
Fat per serving: 5g
Saturated Fat per serving: .6g
Fiber per serving: 2g
Protein per serving: 4g
Cholesterol per serving: 27mg
Carbohydrates per serving: 28.6g
WW POINTS per serving:
Points Plus Program: 5 Old Points Program: 3
4 Responses to "Blueberry- Oatmeal Muffins"
Leave a Comment