Caramel Apple Bars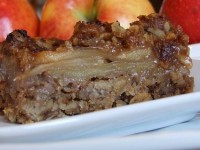 Ingredients:
HOMEMADE CARAMEL:
1 cup heavy whipping cream
2 cups brown sugar, firmly packed
1/4 cup light corn syrup
4 Tablespoons butter
1 teaspoon vanilla extract
1/4 teaspoon salt
CRUST:
1 cup brown sugar, firmly packed
3/4 cup (1 1/2 sticks) butter
1 teaspoon ground cinnamon
3/4 teaspoon salt
1/2 teaspoon baking soda
1 cup all-purpose flour
1 cup ground pecans
2 cups rolled oats
FILLING:
3 1/2 cups sliced apples (about 24 ounces)
1/2 teaspoon salt
1/2 teaspoon ground cinnamon
1 cup homemade caramel
Directions:
1. Preheat oven to 400 degrees. Line 9x13-inch pan with foil and lightly spray with cooking spray.
2. Prepare caramel: Mix caramel ingredients in a 2-quart saucepan. Heat over medium, stirring constantly, until it reaches soft-ball stage (230-234 degrees). Remove from heat.
3. In a medium bowl, beat the brown sugar and the next 4 ingredients (through baking soda) until thoroughly combined. Mix in the flour, ground pecans and oats until crumbly. scoop out 1 cup and set aside. Place the remaining crumbs into your prepared pan and press down firmly to coat the bottom.
4. Toss apples in a large bowl with the salt and cinnamon. Arrange them over the crust. Drizzle 1 cup of warm caramel over the top and the sprinkle with the remaining crumbs you set aside.
5. Bake 35- 40 minutes until bubbly and the apples are just tender. Remove and let cool until they are just warm to the touch. Cut into squares. Try and let the bars rest until the caramel has set before serving.